Sticker Vitrail "Mandalas"
From the age of 4, children will bw able to create really pretty stained glasses to decorate the refrigerator, the windows or their bedrooms. The result is always beautiful, thanks to a mounting frame which guides the hand of the child to avoid going over the edge of the pattern. In addition, the fine tip of the applicator and the fluidity of the paint help children reach all corners of the design.
Box contents :
7 tubes of stained glass paints
3 sheets of mandalas framed stickers
1 set of instructions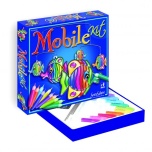 Thanks to this kit, young children will create their stained glass by injecting their chosen colours into the decorative frame mountings. A few hours later, the elements will be dry and crystal clear, ready to be suspended as a mobile, revolving and displaying a thousand reflections.
Ref. 242 Mobile Kit Fish
Box contents :
8 decorative units representing fish
• 4 steel hangers for the mobiles
• 10 tubes of stained glass paints
• 1,7 m invisible nylon thread
• 1 set of instructions
Activity : 1 h
Volume : 235 * 235 * 35 mm
Weight : 360 g
15,00 €
19,00 €
SKU:
2690 ,
Qty:
In Stock
9,90 €